Twenty years of my blog
12th June 2022
I started this blog on June 12th 2002—twenty years ago today! To celebrate two decades of blogging, I decided to pull together some highlights and dive down a self-indulgent nostalgia hole.
Some highlights
Some of my more influential posts, in chronological order.
Picking out these highlights wasn't easy. I ended up setting myself a time limit (to ensure I could put this post live within a minute of midnight UTC time on my blog's 20th birthday) so there's plenty more that I would have liked to dig up.
My tags index page includes a 2010s-style word cloud that you can visit if you want to explore the rest of my content. Or use the faceted search!
A few more project release highlights:
Evolution over time
I started my blog in my first year of as a student studying computer science at the University of Bath.
You can tell that Twitter wasn't a thing yet, because I wrote 107 posts in that first month. Lots of links to other people's blog posts (we did a lot of that back then) with extra commentary. Lots of blogging about blogging.
That first version of the site was hosted at http://www.bath.ac.uk/~cs1spw/blog/—on my university's student hosting. Sadly the Internet Archive doesn't have a capture of it there, since I moved it to http://simon.incutio.com/ (my part-time employer at the time) in September 2002. Here's my note from then about rewriting it to use MySQL instead of flat file storage.
This is the earliest capture I could find on the Internet Archive, from June 2003: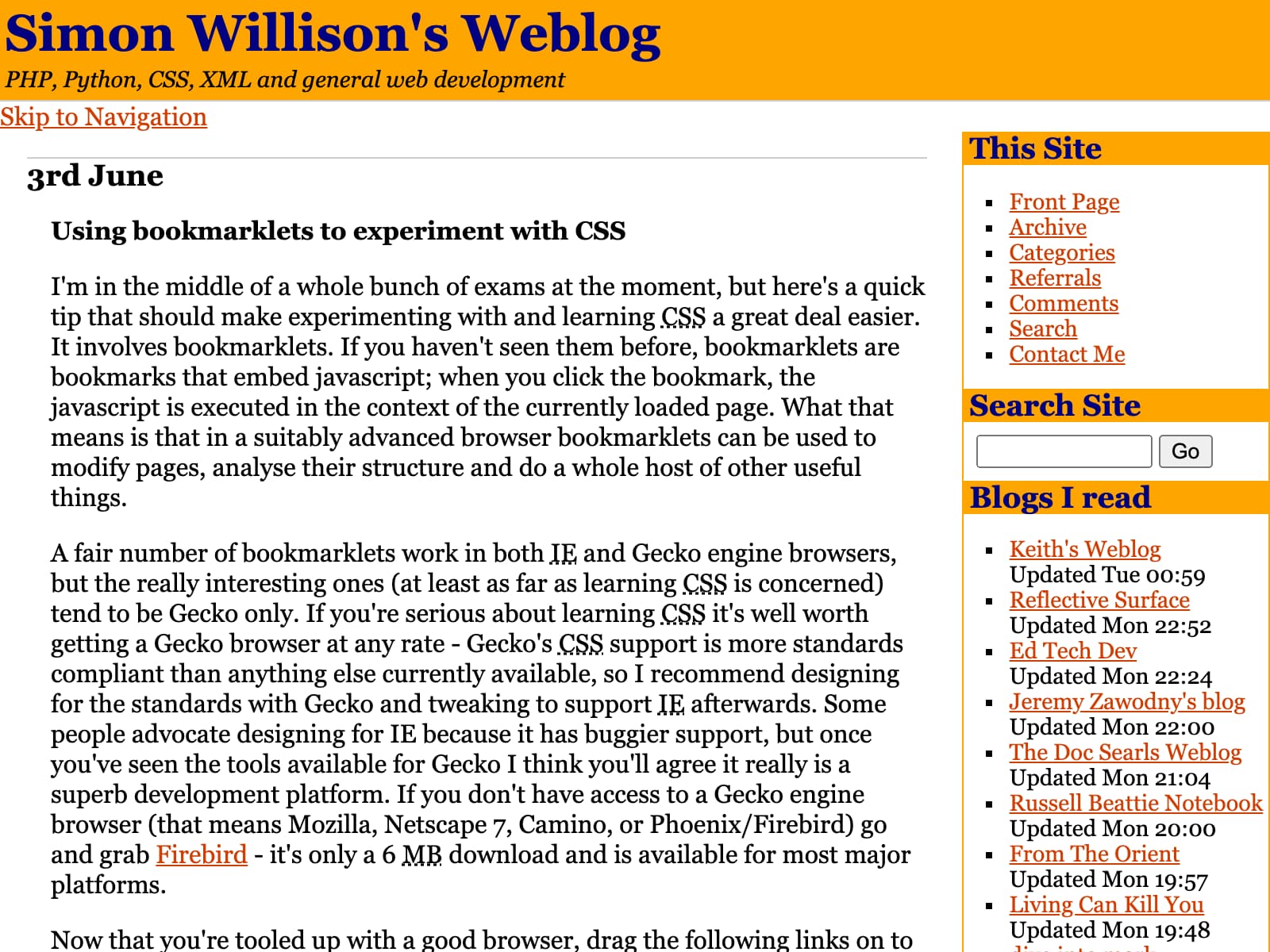 Full entry on Using bookmarklets to experiment with CSS.
By November 2006 I had redesigned from orange to green, and started writing Blogmarks—the name I used for small, bookmark-style link posts. I've collected 6,304 of them over the years!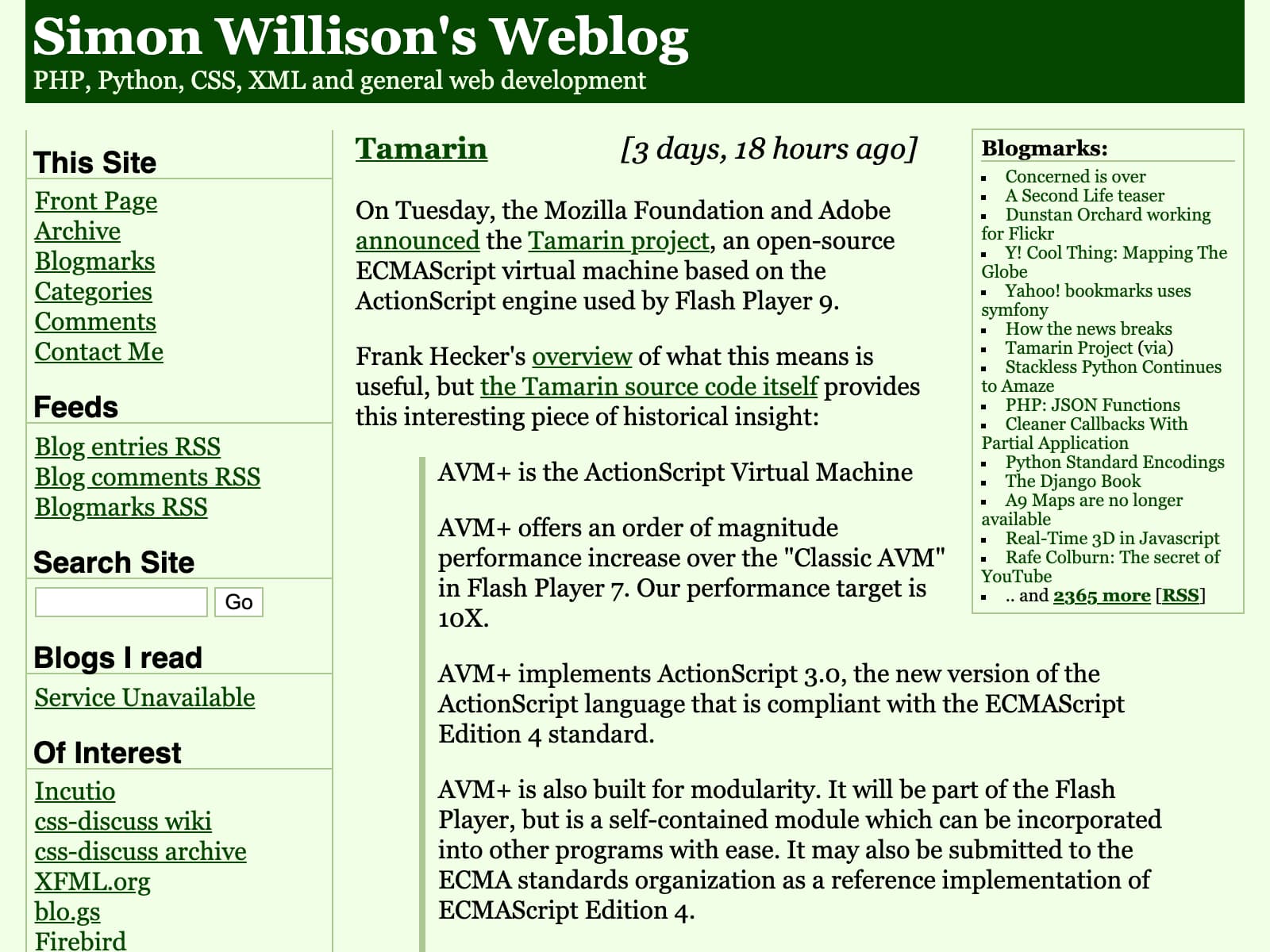 By 2010 I'd reached more-or-less my current purple on white design, albeit with the ability to sign in with OpenID to post a comment. I dropped comments entirely when I relaunched in 2017—constantly fighting against spam comments makes blogging much less fun.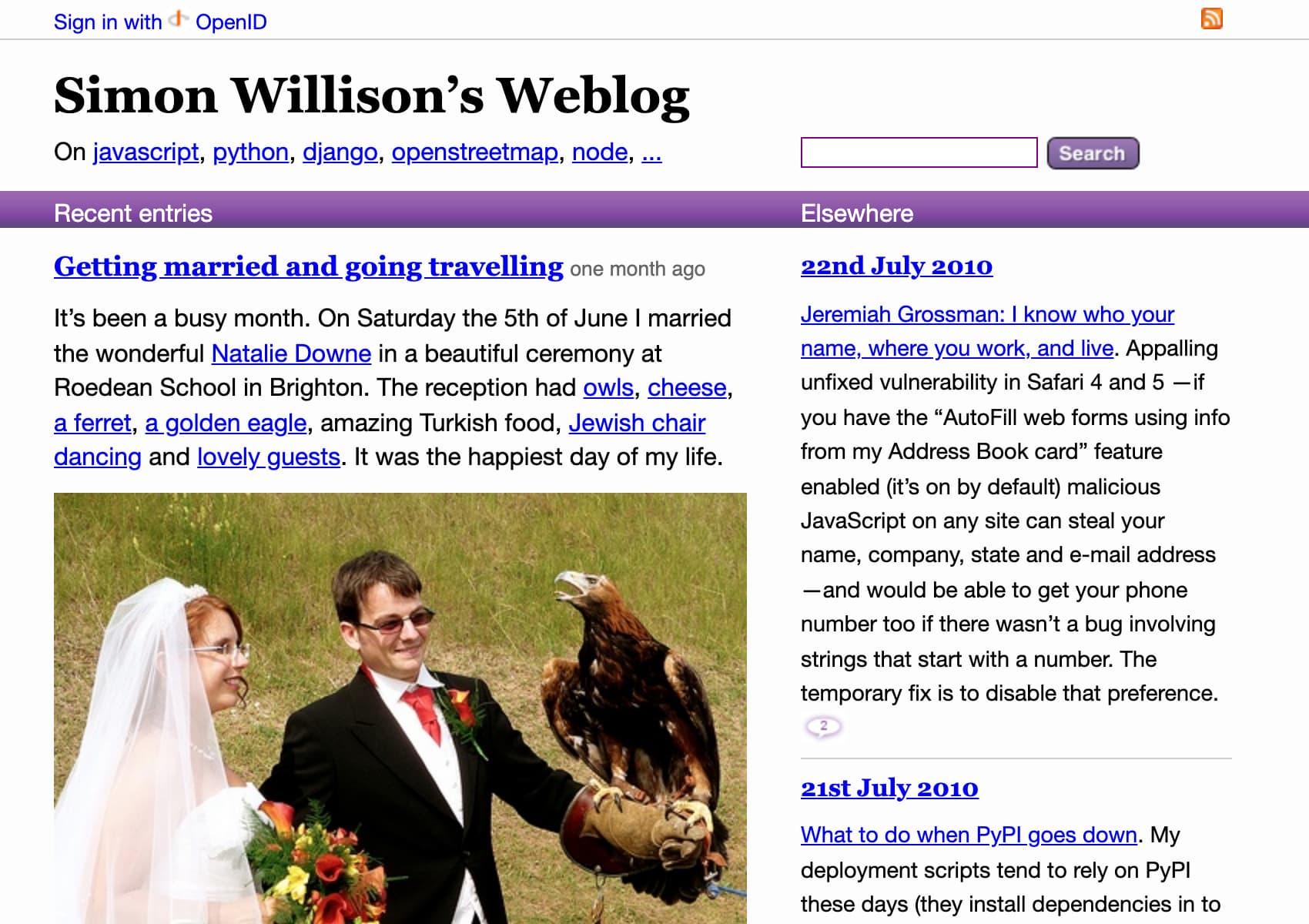 The source code for the current iteration of my blog is available on GitHub.
Taking screenshots of the Internet Archive with shot-scraper
Here's how I generated the screenshots in this post, using shot-scraper against the Internet Archive but with a line of JavaScript to hide the banner the display at the top of every archived page:
shot-scraper 'https://web.archive.org/web/20030610004652/http://simon.incutio.com/' \
  --javascript 'document.querySelector("#wm-ipp-base").style.display="none"' \
   --width 800 --height 600 --retina

mgdlbp on Hacker News pointed out that you can instead add if_ to the date part of the archive URLs to hide the banner, like this:
shot-scraper 'https://web.archive.org/web/20030610004652if_/http://simon.incutio.com/' \
   --width 800 --height 600 --retina