I commissioned an oil painting of Barbra Streisand's cloned dogs
7th March 2019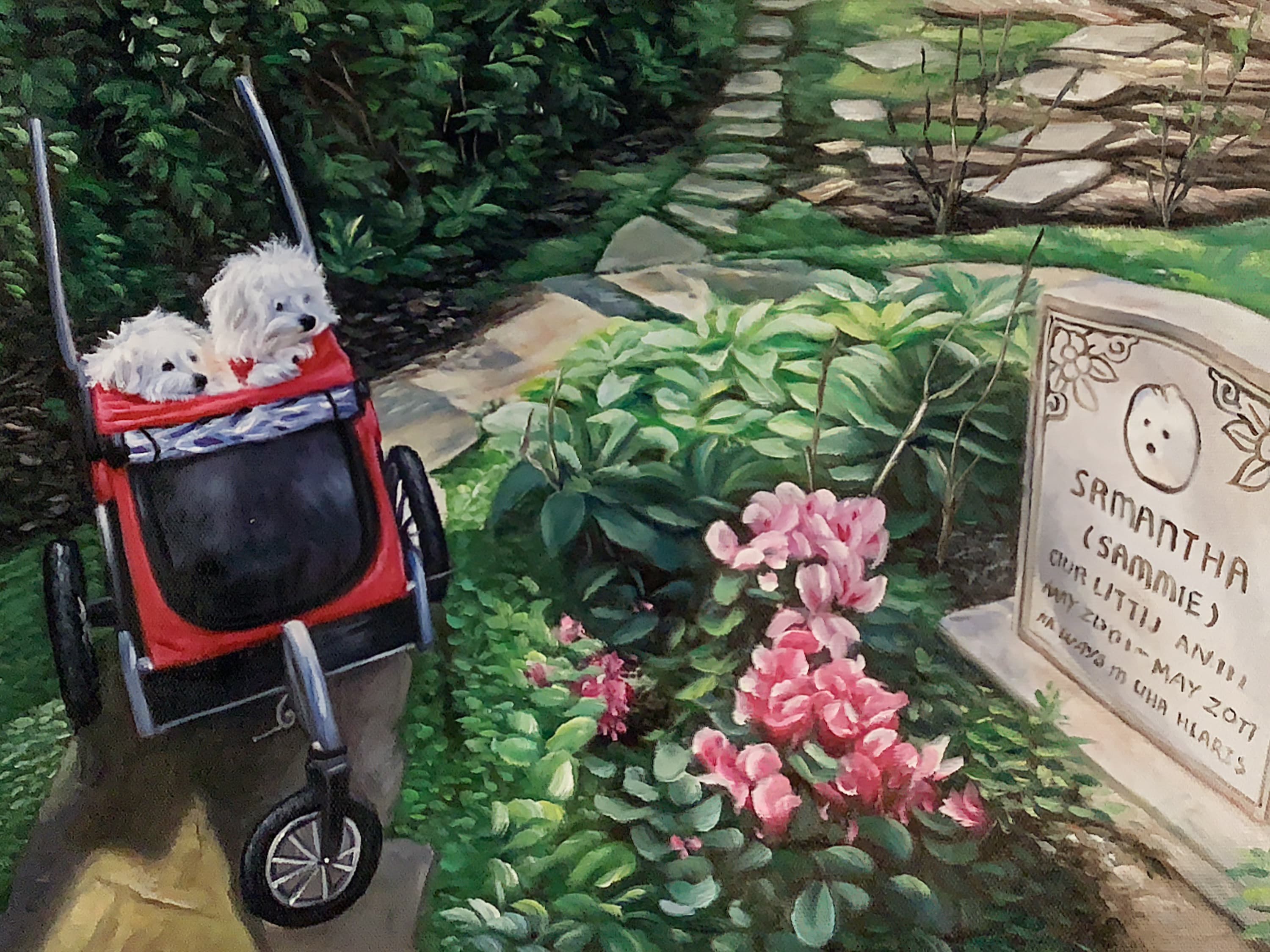 Last year, Barbra Streisand cloned her dog, Sammie.
The story is fascinating, as is the background reading on dog cloning from Vanity Fair. But the thing that really stuck with me was the photograph that accompanied "Barbra Streisand Explains: Why I Cloned My Dog" in the New York Times: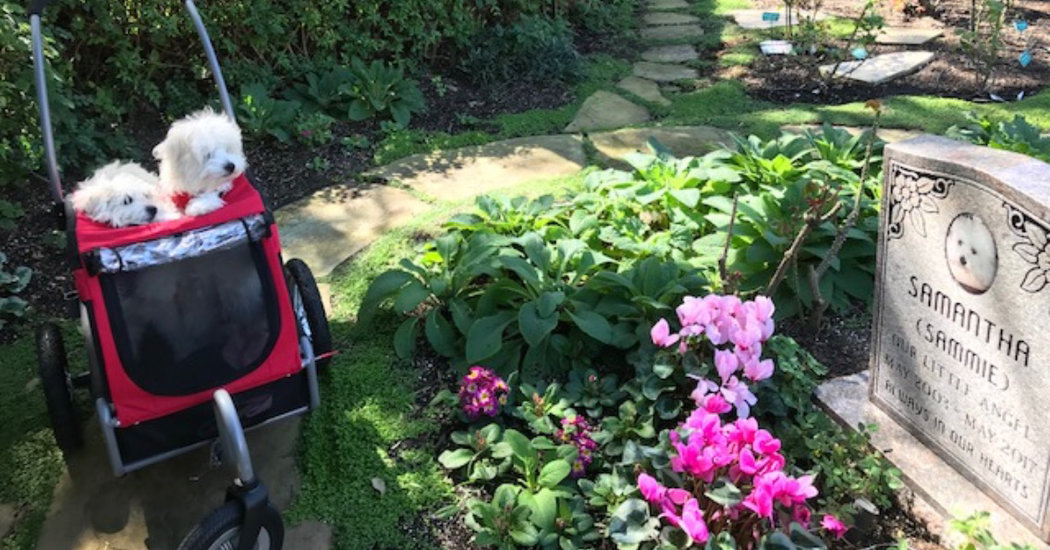 David Ewing Duncan in Vanity Fair described the scenario like this: Barbra Streisand, visiting the grave of her beloved Sammie, with Miss Violet and Miss Scarlett perched next to her in their stroller—two identical puffs of white fur, gazing at the tombstone of the dog they are.
This photograph says so much about the age that we live in. I couldn't get it out of my head.
I've long been fascinated by Dafen, the town in a China that was once responsible for 60% of the world's oil paintings—mostly replicas, but today increasingly original artwork.
I always wanted to commission an oil painting from China, but I never quite found the right subject... until now.
There's something deliciously appropriate about using a painting cloning service to clone a photograph of some cloned dogs.
So I uploaded a copy of the photo to Instapainting and entered a few extra instructions:
Please paint the stroller closer to the gravestone—adjust the composition so that it fits the 12x16 dimensions while maintaining the two key elements of the image: the stroller with the two dogs in it and the gravestone that they are looking at
A couple of months later, a tube arrived in the mail. I opened it up... and they had nailed it. If anything the painting is an improvement on the original photograph: the composition is tighter, the stroller no longer has its wheel cut off, some dead plants in the background (which I had not even noticed) are given a bit more prominence, and the little doggy faces have exactly the right expressions of mild existential dread.
So thank you Alice Wu at Xiamen Dearchic Arts—I could not be happier.
With a painting this good, obviously it needed to be framed. I took it to Underglass Framing in San Francisco's Hayes Valley and told them I was looking for something with an air of existential dread. "I think we can do that" they said.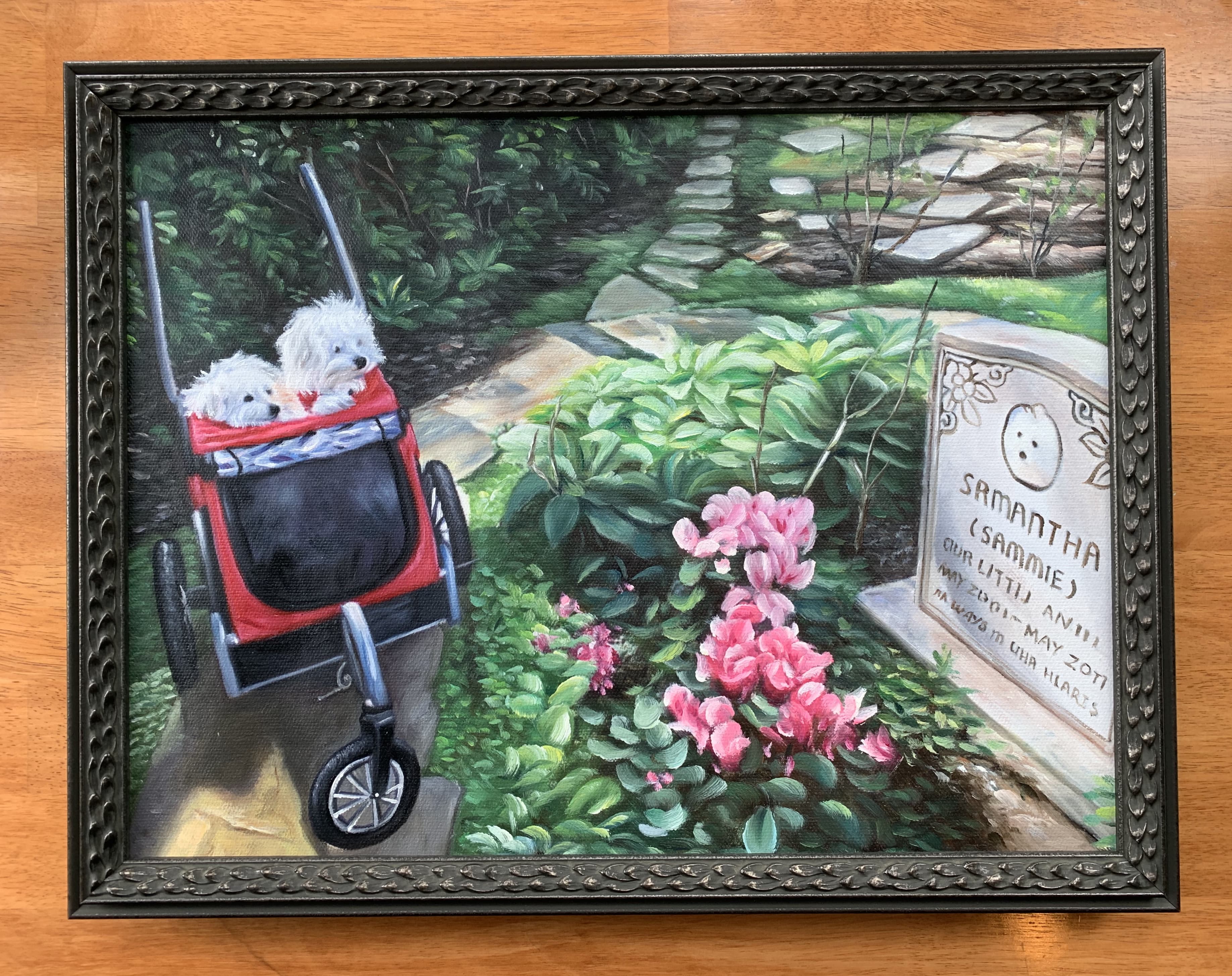 Natalie says I can keep it in the guest bathroom.