Weeknotes: COVID-19 numbers in Datasette
11th March 2020
COVID-19, the disease caused by the novel coronavirus, gets more terrifying every day. Johns Hopkins Center for Systems Science and Engineering (CSSE) have been collating data about the spread of the disease and publishing it as CSV files on GitHub.
This morning I used the pattern described in Deploying a data API using GitHub Actions and Cloud Run to set up a scheduled task that grabs their data once an hour and publishes it to https://covid-19.datasettes.com/ as a table in Datasette.
If you're not yet concerned about COVID-19 you clearly haven't been paying atttention to what's been happening in Italy. Here's a query which shows a graph of the number of confirmed cases in Italy over the past few weeks (using datasette-vega):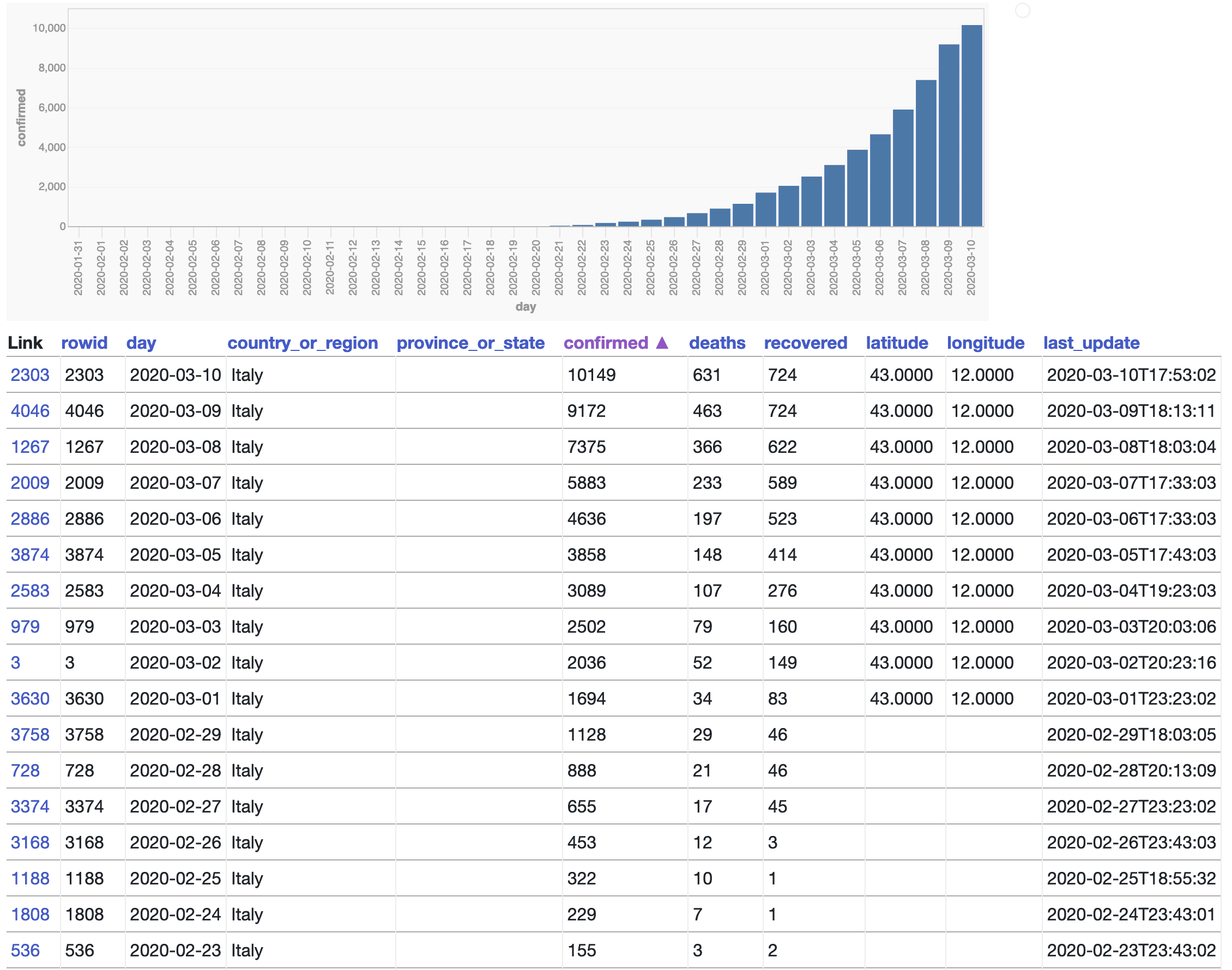 155 cases 17 days ago to 10,149 cases today is really frightening. And the USA still doesn't have robust testing in place, so the numbers here are likely to really shock people once they start to become more apparent.
If you're going to use the data in covid-19.datasettes.com for anything please be responsible with it and read the warnings in the README file in detail: it's important to fully understand the sources of the data and how it is being processed before you use it to make any assertions about the spread of COVID-19.
My favourite resource to understand Coronavirus and what we should be doing about it is flattenthecurve.com, compiled by Julie McMurry, an assistant professor at Oregon State University College of Public Health. I strongly recommend checking it out.
Other projects
I've worked on a bunch of other projects this week, some of which were inspired by my time at NICAR.
Here are two screenshots of datasette-column-inspect in action. You can try out a live demo of the plugin over here.