Mexican bean shakshuka
28th August 2020
The first time I ever tried a shakshuka I cooked it from this recipe by J. Kenji López-Alt. It quickly became my favourite breakfast.
The only good thing about this pandemic is that I've got to spend more time cooking. I've developed a variant on Kenji's shakshuka that I'm calling a Mexican bean shakshuka. It's delicious. Here's how to make it.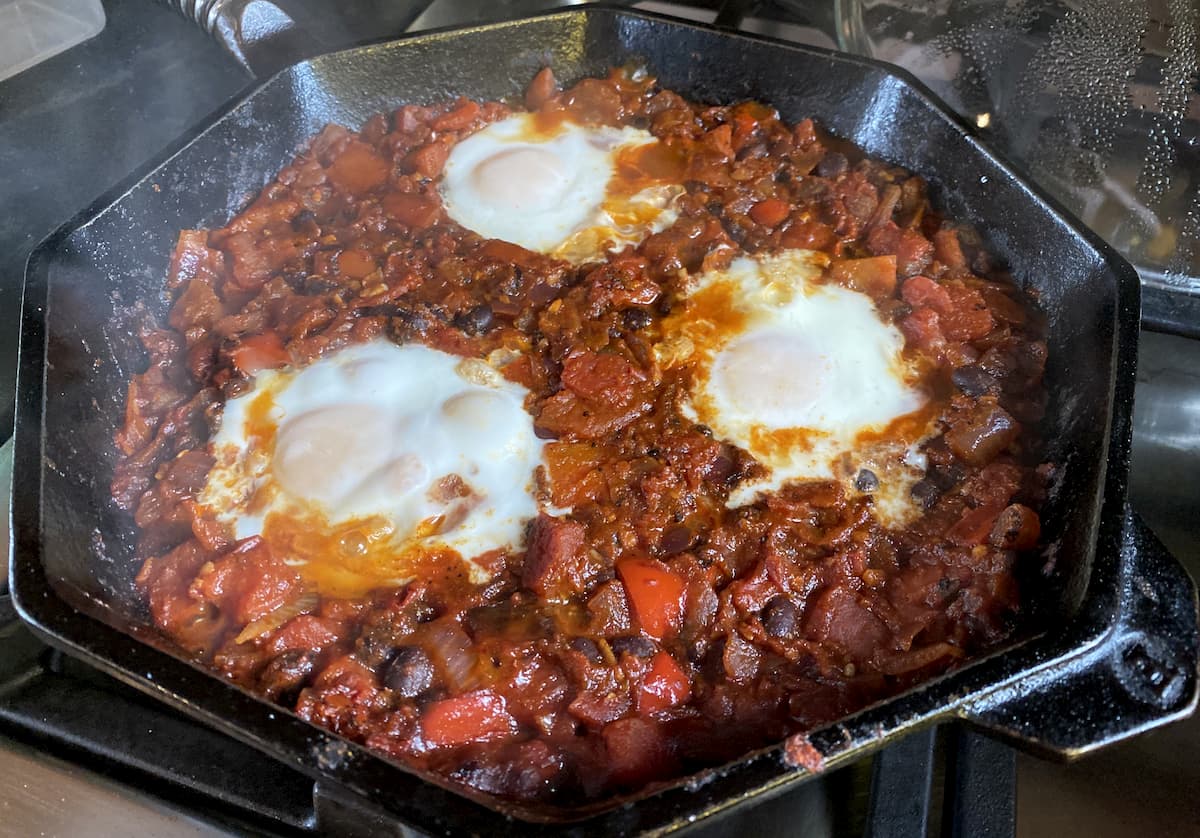 Ingredients
Red bell pepper, chopped small
Medium-sized red onion, chopped small
Olive oil (3 tablespoons)
4 eggs
3 cloves garlic, minced
2 cans tomatoes (I use Muir Glen fire roasted diced tomatoes)
Half a can of black beans
2 teaspoons cumin
1.5 tablespoons paprika
Some salt
A chipotle pepper in adobo sauce (or half a pepper depending on your spiciness tolerance)—finely chopped
The crucial ingredient here is the chipotle pepper in adobo sauce (I use this La Morena one). If you've never encountered these before they are absolute magic: a total explosion of flavour, and I keep on finding new uses for them (most recently spaghetti bolognese). The can contains 6-8 peppers and I only use one for this recipe (finely chopped)—thankfully once opened it lasts in the fridge for a couple of months.
Directions
There are three phases: charring the peppers and onions, cooking the sauce and poaching the eggs. It takes 25-30 minutes total.
Heat 3 tablespoons olive oil in a large frying pan (or cast iron pan)
Add the chopped bell pepper and onion
Cook without stirring for 6 minutes—the idea is to get the ingredients to char a little
Stir once, then cook for another 4 minutes
Stir in the minced garlic and cook for 30 seconds
Stir in the cumin and paprika
Add the two cans of diced tomatoes, half can of black beans and the finely chopped chipotle-in-adobo. Mix well.
Simmer for ten minutes, stirring occasionally.
Make four equally spaced indentations in the sauce using a large spoon, place an egg in each one, then sprinkle the yolk with some salt
Cover with a lid and allow the eggs to poach for six minutes.
Serve!
Kenji's recipe includes photos illustrating how the egg poaching step works.
The great thing about a shakshuka is that it's an incredibly flexible dish. Once you've mastered the basic form it's easy to come up with new tasty variants based around the key idea of poaching eggs directly in the sauce. I sometimes make breakfast "shakshukas" out of leftovers from the night before—bean chiles and Indian curries have worked particularly well for that.